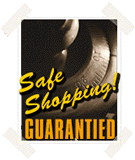 Wine for Dummies DVD
Hosted by Sterling Roig




Retail Price: $19.99
WCT Price: $9.99
You Save: $10.00 (50%)

Availability: Usually ships within 24 hours.


Format: DVD
Rated: NR (Not Rated)
ISBN: 9836860069
Publisher: Razor & Tie / Wiley
DVD Release Date: March 9, 2006
Run Time: 80 minutes
Item No: 9836860069



Order This DVD!







Secure Order Guarantee



Description
From The Publisher:

Wine for Dummies DVD—the visual companion to the acclaimed boo with more than 500,000 copies in print—is an accessible, unpretentious "wine lover's bible" that opens up the world of wine to anyone. Like the bestselling book, the DVD version of Wine for Dummies is an entertaining and informative look at the increasingly popular world of wine. Having an interest in wine is only the first step; Wine for Dummies gives consumers all the knowledge and confidence they need to enjoy a wine experience in any setting. Tired of making Merlot the only wine you drink? Finally, wine enthusiasts of all backgrounds, experience, and budgets can branch out and experiment with all sorts of varietals—with the guidence from an expert who knows! Go ahead, stick your nose in—Wine for Dummies takes you on a tour through the wonderful world of wine with a delightful and easy-to-follow program hosted by NYC sommelier Sterling Roig. Shot in the famed Napa Valley, Wine for Dummies covers all aspects of wine appreciation. Test your palate and find out about the creation of wine, how to shop for it, store it, and pair it with food. Enjoying wine is more than just picking the right bottle at a restaurant or navigating your way through a wine shop—learning about wine is fun and exciting! Discover how to:
Understand wine styles and grape varietals
Navigate a restaurant wine list
Decipher wine labels
Match wine with food
Open, taste and serve wine like a pro
Talk about wine colors, aromas, and flavors
Develop your own personal wine-tasting technique
Purchase and store your own wine

BONUS FEATURES INCLUDE: Debunking Ten Common Wine Myths, and Cross-Country Wine Shopping



Reviews


About the Host
Sterling Roig, Wine Director at Marseille, a New York City restaurant acclaimed for its eclectic wine selection, hosts Wine For Dummies. Sterling shares his passion for wine with all types of wine lovers, from the novice to the aficionado. A student of the American Sommelier Association's Viticulture and Vinification, Sterling is an expert on vintages and producers.



Table of Contents

Find Items On Similar Subjects

Wine for Dummies 4th Edition