At the Wine Country Travel Shop, we are committed to protecting your privacy. We use the information we collect about you to process orders and to provide a more personalized shopping experience. Please read on for more details about our privacy policy.
When you order, we need to know your name, e-mail address, mailing address, credit card number, and expiration date. This allows us to process and fulfill your order and to notify you of your order status.
When you place orders we offer the use of a secure server. The secure server software (SSL) encrypts all information you input before it is sent to us. Additionally, all of the customer data we collect is protected against unauthorized access.
The Wine Country Travel Shop does not sell, trade, or rent your personal information to others. Also, if we provide aggregate statistics about our customers, sales, traffic patterns, and related site information to reputable third-party vendors, then these statistics will not include any personally identifying information. The Wine Country Travel Shop may release account information when we believe, in good faith, that such release is reasonably necessary to (i) comply with law, (ii) enforce or apply the terms of any of our user agreements or (iii) protect the rights, property or safety of the Wine Country Travel Shop, our users, or others.
We are committed to protecting your privacy. We use the information we collect on the site to make shopping at the Wine Country Travel Shop possible and to enhance your overall shopping experience. We do not sell, trade, or rent your personal information to others.
By using our Web site, you consent to the collection and use of this information by the Wine Country Travel Shop. If we decide to change our privacy policy, we will post those changes on this page so that you are always aware of what information we collect, how we use it, and under what circumstances we disclose it.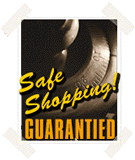 Safe Shopping Guarantee
Shopping at the Wine Country Travel Shop is absolutely safe—you never have to worry about credit-card safety when you are shopping at our site. We guarantee that each purchase you make is protected and safe. If fraudulent charges are ever made, you will not have to pay for them.
In general, under federal law, you will not be liable for more than $50 of fraudulent charges. In the unlikely event that you are subject to fraudulent charges, remember to first notify your credit card provider in accordance with its reporting rules and procedures. If, for whatever reason, you are held responsible for this amount, the Wine Country Travel Shop will cover the entire liability for you, up to $50, as long as the unauthorized use of your credit card resulted through no fault of your own from purchases made from the Wine Country Travel Shop while using our secure server.
We use encryption technology to keep your personal information safe. All your ordering information—including your name, address, and credit card number—is encrypted using a secure server for maximum security. Your credit card and billing information cannot be read as it travels to our ordering system. To ensure that your information is even more secure, once we receive your credit card information, we store it on a server that isn't accessible from the Internet.
Your Credit Card Guarantee: In addition to our Wine Country Travel Shop guarantee, our credit card partners offer programs to protect you against fraud when shopping online at the Wine Country Travel Shop.