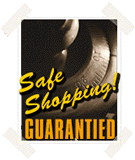 Name That Wine Wine Tasting Party Kit
Name That Wine


Retail Price: $34.99
WCT Price: $14.00
You Save: $25.99 (60%)

Availability: Ships in 24 Hours. Only 2 left.

ASIN: B0006L1VCO
Pub. Date: 2004
Item No: B0006L1VCO
Order This Game!








Description
From The Publisher:

A unique new party kit in a box has everything you need to host a wine tasting party in your home. Or you can order "Name That Wine" as the perfect hostess, wedding shower, birthday or holiday gift. It's fun, it's easy and offers an enjoyable party experience for the wine novice or the wine connoisseur! Plus it's reuseable so you can use it over and over again!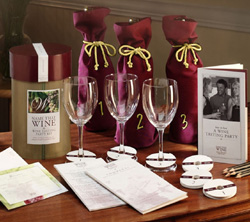 Includes everything you'll need:

"How to host a wine tasting party" brochure
24 round wine glass markers
3 numbered cloth wine bags
8 pencils
1 wine comment tablet
1 wine trivia question tablet
8 wine tasting party invitations

Wine bottles and wine glasses sold separately. Just add your own wine glasses, 3 bottles of wine and up to 8 friends!






How to Host a Wine Tasting Party

GET READY...
Invite up to 8 friends. Send out your invitations.
Don't worry if you blend wine novices and wine experts. With "Name That Wine", individual tastes rule, and there are no right or wrong answers -- just choose your favorite wine!

Purchase 3 different bottles of wine or assign specific wines to be brought by guests. Selecting which wines to taste is easy because there are no rules. As the host, you decide what to taste.
As you'll see next, your wine selections can make the wine tasting as "laid back" or as challenging as you want.

HOW TO CHOOSE WHICH WINES TO TASTE:
Ideas and options to vary your wine tasting.

Choose the same wine color, but provide 3 different grape varieties. An example of this would be to provide ALL WHITES: 1 Chardonnay, 1 Sauvignon Blanc and 1 Pinot Grigio.
or
Choose the same wine color and provide all 3 of the SAME grape variety. An example of this would be to provide ALL 3 CABERNET SAUVIGNON (RED) in the same price range.
or
Have a "theme" night highlighting a certain country or wine region. An example of this would be to provide all 3 wines from Australia or all 3 wines from Italy. Or for more sophisticated wine tasters, try highlighting a specific wine region such as the Sonoma Valley of California.
or
Choose 1 inexpensive, 1 medium priced and 1 expensive red wine (or all three white wines).
or
Have a Champagne tasting. Try 3 different sparkling wines/Champagnes.
or
Ask your guests to bring their favorite red. Specify all Cabernets or taste different varieties of reds. Enjoy your friends' selections.


GET SET...
Setting up your wine tasting table or area is simple!
"Name That Wine" provides everything you'll need except the wine, cork screw and wine glasses.
Set up a "tasting station" or area for each invited guest by using three wine glasses per guest. If you don't have enough glasses ask your guests to bring their own.
Set out the wine comment sheets, pencils and wine trivia questions.
Place a set of round wine glass markers (1, 2, 3) on each glass at each "tasting station".
Open three different bottles of wine remembering to remove the foil top. If using white wines, chill at least one hour before tasting. Red wines can be served at a cool room temperature.
Place one bottle in each of the numbered (1, 2, 3) cloth wine bags.
Pour 2-3 ounces of wine in each corresponding numbered glass.
Place plain crackers or bread and a water pitcher on the table so that tasters can "cleanse their palates" between wines.
Add your personal touch with candles, flowers and music.
GO!!!
Now the fun begins.
Explain that they'll be asked to rate which wine they liked the best.
Ask your guests to make written comments as they taste each wine.
Review the only rule...which is to have fun!
Remember that there are no right or wrong answers, just what they like best.
If you would like to make the wine tasting more challenging for your guests, you may want to have them try to distinguish which wine is which or "Name That Wine".

-Which is the Cabernet, the Merlot and the Zinfandel?
or
-Which is the Chardonnay, the Sauvignon Blanc and the Pinot Grigio?
or
-Which wine is from California, Oregon or France?
or
-Which wine is the oldest vintage?
or
-Which wine is the most expensive?

START THE TASTING
Sample wines #1, then #2 and then #3.
Ask your guests to write down any comments they have to help them determine what they like about each wine.
The "Wine Trivia Questions" can be asked and answered all together or individually at any time during the tasting. OPTION: As the host you may want to have a bottle of wine as a prize for the guest with the most correct answers.
After your guests have enjoyed their wines and rated which one they liked the best, have them share their comments and "vote" which wine they personally liked the best.
For a more challenging tasting, play "Name That Wine" and have your guests identify which wine is which.

REVEAL THE WINES
by removing the cloth bags.



Find Items On Similar Subjects

Wine Games